grape

News
SPOT THE BIN TO WIN CONTEST
July 05, 2019
SPOT THE BIN TO WIN!
It's Tender Fruit Season in Ontario, so to kick off we're giving away up to $500.00 in prizes!!
OFFICIAL RULES
No purchase necessary. Odds of winning are based on the number of eligible entries received during the contest period.
Ontario Tender Fruit Growers are the "sponsor" of the contest. Facebook, Twitter and Instagram are in no way affiliated with this contest.
1. Contest Period:
The contest will be open for submissions from Monday, July 22nd, 2019 until Monday, September 30th, 2019 at 11:59 p.m. EST.
All eligible entries received will be placed in a draw and the winner(s) will be selected at random on October 1st, 2019 and notified within 5 business days from the draw date.
2. To Enter:
a. Entrants must visit a grocery store, take a picture of the sponsor's produce bin (pictured below), and then post it to their social media account(s). Social media accounts include Facebook, Twitter and/or Instagram only.
b. Picture(s) and Post(s) must:
i) clearly show at least one Ontario tender fruit commodity on display (i.e. Peaches, Plums, Pears, Nectarines, Grapes, Apricots)
ii) have @OntTenderFruit tagged and use hashtag #SpotTheBinToWin
iii) be set to "public" for verification and notification purposes
3. Eligibility:
a. The contest is open to residents of Canada who have reached the age of majority in their province.
b. Entrants must Like and Follow Ontario Tender Fruit Growers (@OntTenderFruit) on all social media platforms used to enter the contest
c. Employees of the sponsor are not permitted to enter the contest.
4. Prizes:
There are a total of 5 prizes that can be won.
a. Grand Prize:
(1) $250.00 Visa Gift Card
b. Additional prizes:
(1) $100.00 Grocer Gift Card
(3) $50.00 Grocer Gift Cards
If one of the above-listed prizes are not available, a prize of equal value will be substituted by the sponsor.
5. Notification
The winner(s) will be contacted by the sponsor on social media via direct message using the platform in which their successful entry was received. It is the responsibility of the entrant to ensure their account is configured in such a way that they are able to receive direct messages from the sponsor.
6. Bin Picture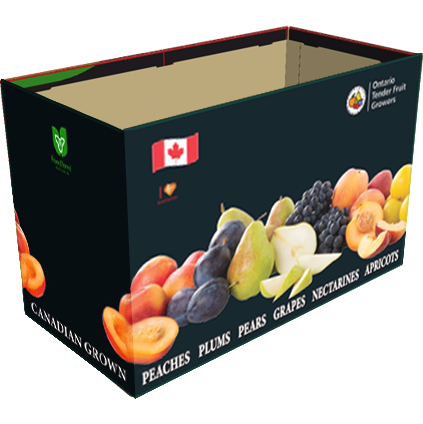 Other News Stories
SEPTEMBER 15, 2015
Coronation grapes reign over French clafouti [read more]
—
AUGUST 13, 2015
GreenbeltFresh.ca - a new resource to find local fruit [read more]
—
MAY 15, 2015
The bloom is back and a little early [read more]
—
APRIL 01, 2015
Fruit Tracker | Fruit and Vegetable Magazine Article [read more]
—
MARCH 20, 2015
Adapting to consumer tender-fruit wants [read more]
—
DECEMBER 10, 2014
Tender Fruit Research Receives Funding [read more]
—
NOVEMBER 11, 2014
Grant to help with earlier varieties of fruit [read more]
—
NOVEMBER 10, 2014
Advancing Tree Fruit and Fresh Grape Sectors in Canada [read more]
—
NOVEMBER 10, 2014
Harper Government Invests to Introduce New Tender Fruit and Fresh Grape Varieties [read more]
—
AUGUST 24, 2014
Coronation Grapes Now Available! [read more]
—